Complete pack of truck & trailer templates 1.37 MOD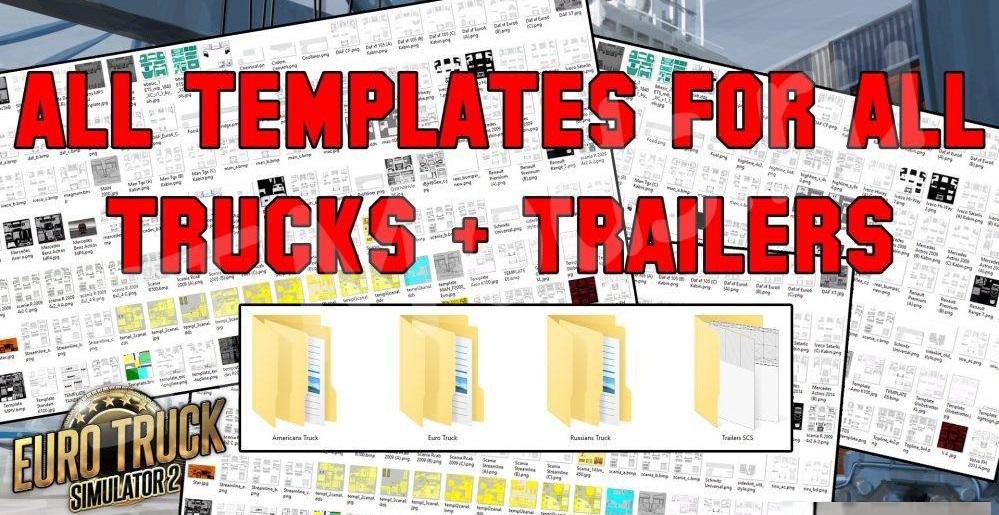 Complete pack of truck & trailer templates 1.37 MOD
ETS 2 & ATS Complete pack of truck & trailer templates [incl. 1.37 SCS & Schwarzmüller Food Tank]
New version with support for the Food Tank trailers in the ETS 2 1.37 beta, both the SCS one and the Schwarzmüller one
I got tired of wading through outdated template packs on shady mod websites so I decided to put this pack together for the community! I make paintjobs myself so these templates should remain accurate and up-to-date for the foreseeable future.
All ETS 2 and ATS trucks and trailers are included, as well as Krone, Schwarzmuller, Mighty Griffin, DAF Tuning Pack and Actros Tuning Pack DLCs
Truck templates are 4096×4096, and trailer templates are 4096×2048 and 2048×2048
Each template is available in PSD and PNG format
Every ATS truck except the W900 and LoneStar use the alternate uvset
You can't really make paintjobs for goosenecks (container carriers), loggers and (non-sliding tarp) flatbeds, so I didn't bother making templates for them
Enjoy!