МAZ-5340/5440/6430А8 1.25.X MOD FOR ETS2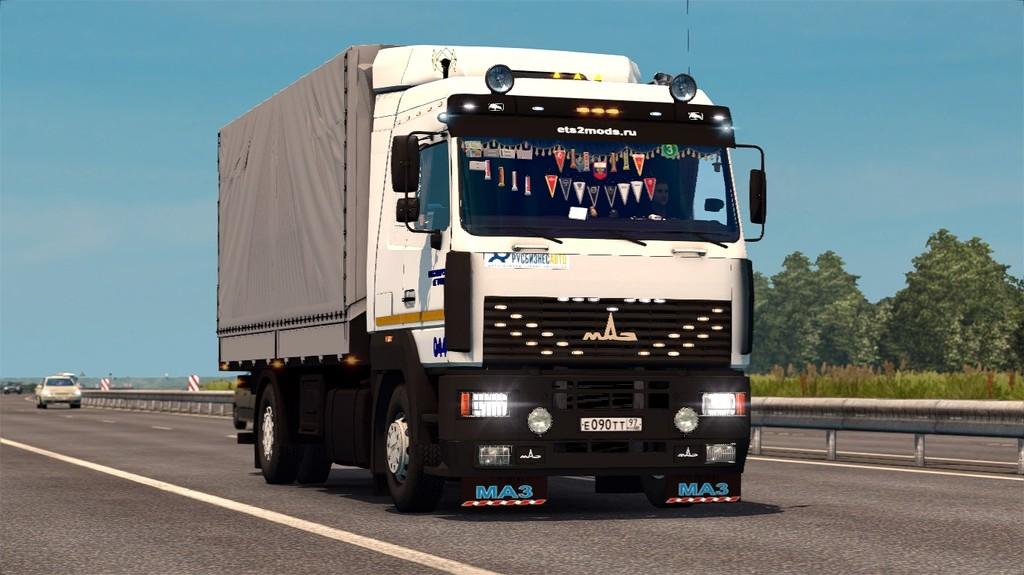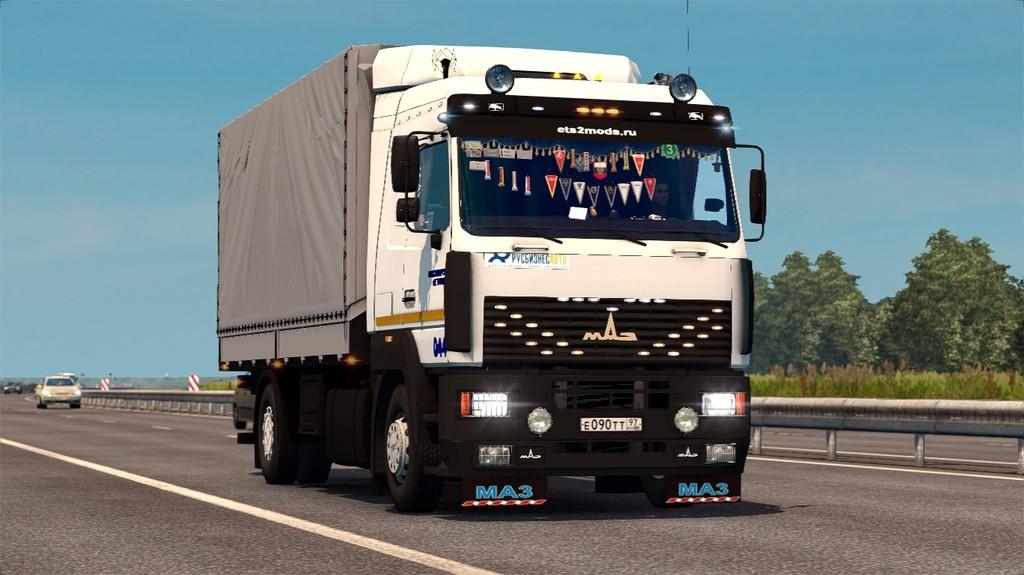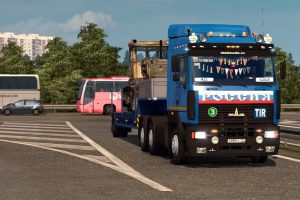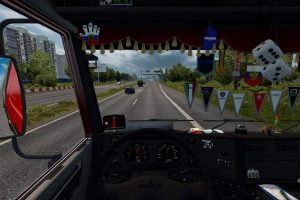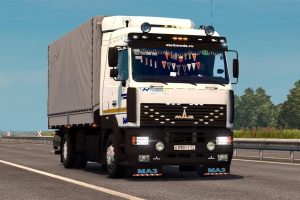 МAZ-5340/5440/6430А8 1.25.X MOD FOR ETS2
Updated on 28/10/16
Improvements and corrections in the model.
Added support introduced in version 1.25 of the game steering column column hight and tilt. Redesigned animation shift paddles. Shop now one, rudders delivered in tuning.
Added more realistic model of the passenger compartment at the sight of the outside (thanks to the author Sanek201333 model (aka sanek750) for providing the operating time).
Improved collision.
Other minor improvements of the model.
Additions tuning:
oval sticker RUS / BY / KZ / UA / her option.
several variants of the logo on the radiator grille (bright / dark / chrome).
table on the instrument panel.
sun strip on the windshield.
smoky exhaust.
Curbing made removable mirror (to improve performance on low-end PCs).
Improvements and fixes residence.
Refined torque curves in a registration engine (by factory specifications).
Added additional options for CAT and the main gear in the transmission.
Several other minor changes of residence.
Other:
New sound alarm for low air pressure in the pneumatic system.
Invisible Trailer chassis 5340 is registered under the loads of default games + DLC Scandinavia. Loads are selected mainly from curtain`s / focal-board semi-trailer and container. Select by clicking on "GEAR" in the menu on the base load. Thus, the total number of goods available for a single a / m increased to 170 species.
Notable shortcomings that still can not fix:
downed normal cab and other details.
manifested at the distance mesh of polygons in some detail (albeit only slightly).
You may have remained unnoticed by other problems …
Dealer DAF, 2 slot.
The model has:
+ 3 types of chassis: 5440A8 (4×2); 6430A8 (6×4); 5340A8 (tent 4×2).
+ 2 types of interior (different steering wheel).
+ His own wheels and sound.
+ Painted in factory colors, including in "metallic." Can stain plastic parts of feathers in the cab color.
+ Extensive tuning (optics, shutter, GPS, flashing lights, etc..).
Full list of authors:
The authors model MAZ-5440:
Ols, Drzivago, Shpunt, Volk86, Nik_1MTK, Ra1ley, MiRoN, Fanis, By_maz_man, MRD_BMZ
Upgrading, updating, adaptation to the versions of the game 1.16-1.22:
Maxim Kokorin, sanek750, Nikita Razgulyaev, vovangt4
Re-registration and adaptation to version 1.24, optimization model, completion of some errors, some details: il_86
Sounds: Dark_Wolf
Special thanks to: knox_xss
Other models used:
– CB-radio: WombaT, unknown author *
– Fresheners: GTrucker, unknown author *
– Mobile phone: daf1
– Radio Pioneer DEH-P5900, Video: unknown author *
* – Presumably, Moders Team Poland