AI Traffic Mod v5.6.1 [03.10.2016] by D.B Creation TRAFFIC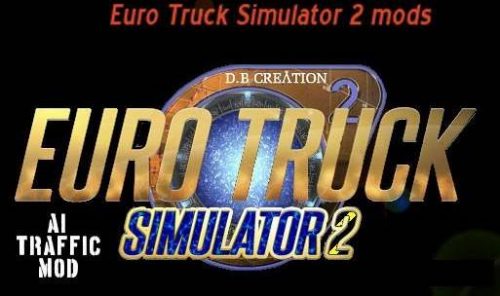 AI Traffic Mod v5.6.1 [03.10.2016] by D.B Creation TRAFFIC
This Mod Pack includes :
– D.B Creations Special Rain Effects Ver. 1.1.8
– D.B Creations Xenon Lights for SCS Player Trucks Ver. 5.5.1
– D.B Creations AI traffic Behavior Ver. 5.6.8
– D.B Creations High Intensity Traffic Ver. 5.4.7
– D.B Creations Traffic Essentials Ver. 5.8.3
– D.B Creations Traffic Trailer Pack Ver. 5.5.6
My Mods includes together :
– Added Real Licence Plates for all countrys.
– Added more traffic in City's.
– Added reflectors on delineators in some countrys.
– Added new Loadingscreens
– Added new AI Vehicle Lights
– Added LED Dangerous Turn signals by Satan19990 ( Premission and credits by Satan)
– Added 3 AI Cars speed variants :
-> 1. 80 km/h
-> 2. 110 ~ 135 km/h
-> 3. 160 ~ 200 km/h
– Added 2 AI Truck speed variants :
-> 6×4 Trucks = 70 – 80 km/h
-> 4×2 Trucks = 90 km/h
– Added more Trafficlights and circles.
– Added Real Speedlimits in all Country's.
– Added some Environment changes.
– Added many Sounds for mover, Companies, Ai Traffic and Environment
– Added new Rain Particles for the Wheels.
– Added new raindrops and increases the number of drops.
– Added new Rain Sound Effects.
– Added new Main screen music by D.B Creation
– Added our own Trailer Skin with our Logo
– Changed many Textures In-Game e.g Roads, Surfaces, Decals and Terrains
– Changed Map Zoom for Map Mod user
– Changed Economy Data
– Changed Traffic Light Circles.
– Changed all traffic and vehicle flares and improved.
– Changed Traffic Spawn distance
– Corrected behavior of AI trucks and cars.
– Corrected maximum speeds for cars.
– Improved AI traffic characteristics.
– Improved traffic behavior in the traffic circle and minor bug fixes.
– Increased vision coverage for AI traffic.
– Increased visibility of warning signs. (Flares)
– Increased visibility of traffic lights. (Flares)
– Increased Interior sound volume.
– Traffic was greatly increased.
– Traffic flow improved education of traffic jam.
– Unlocked all AI Cars, Trucks & Trailers in each country.
– Unlocked all AI Cars & Truck colors in traffic.
– Unlocked all hidden France Paintjobs for AI Traffic Trailer.
[*** Changelist: ***]
– Please see inside the Zip File to see the changes