AI Traffic Pack by Jazzycat v3.9 ETS2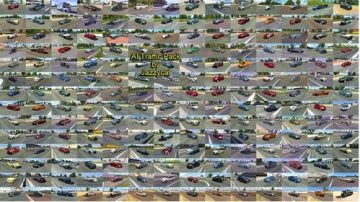 AI Traffic Pack by Jazzycat v3.9 ETS2
Pack adds in traffic 231 new AI cars:
Mercedes-Benz A-Class(W169), C-Class(W203, W204), E-Class(W124, W210, W212), S-Class(W220, W221), CLK(C209), ML63, G65, CL65, GL450, CLA, CLS, Vito, Vario, Sprinter(903, 906)
BMW 1(E82, F21), 3(E36, E46, E92, F80), 5(E34, E39, F10, F11), 6(E63), 7(E38, E66), X1(E84), BMW X3(F25), X5(E70, F15), X6(E71), Z4(E89)
Audi 80(Avant), A4(B5, B6 Avant, B8, B8 Avant), A6(C5, C6), A8(D4), Q7, RS5, TT, R8
Volkswagen Touareg, Golf(2, 3, 4, 5, 6), Polo, Fox, Beetle, Scirocco, Passat(B4 Variant, 5, B6 Variant), Bora, Transporter(T4), LT
Renault 19, Kangoo, Master, Master Cargo, Clio(II, III), Espace III, Megane(II, III), Twingo, Trafic
Fiat Panda, Fiorino 3, Ducato Camper, Ducato Van, Coupe, Fiat/Abarth 500, 125P, 126P
Alfa Romeo 155, 159, Brera, Mito, Giulietta, 8C Competizione
Citroen C1, C2, C6, C8, Nemo, DS3, DS4
Peugeot 107, 206, 207, 308, 406, 508, 607, RCZ
Seat Leon('03, '10), Ibiza, Altea
Dacia Logan, Duster
Skoda Superb
Opel/Vauxhall Vectra C, Astra(F Caravan, G Caravan, J Caravan), Insignia(Sedan, Wagon), Agila, Corsa
Porsche 911, Cayenne, Panamera, Cayman
Ford Focus(1, 3), Mondeo Wagon, S-Max, Scorpio, Transit Sportvan, Fiesta(Mk6'09,'13), Ka
Bentley Arnage T, Continental GT
Land Rover Discovery 2, Freelander, Evoque
Smart Fortwo
Maybach 62
Bugatti Veyron
Saab 99, 9-3('02,'08), 9-5
Volvo 242, 850, S60('04, '11), XC70, V40, C30
Jaguar XKR, XJ(X350)
Aston Martin Cygnet, V12 Vantage, DB9, Rapide
Ferrari F430, 458 Italia, California
Lamborghini Aventador, Diablo
Maserati Quattroporte, Ghibli
Lancia Delta
FSC Zuk A-11
FSD Nysa 522
FSO Polonez Caro Plus, Atu Plus, Kombi, Truck Plus, 1500
Toyota Corolla, Yaris, Aygo, Prius, Avensis
Lexus IS350, CT200h, GS350
Subaru Legacy, Impreza, Forester
Honda Civic, Jazz, CB600 Hornet
Mazda 2, 6, MX-5, RX8
Suzuki SX4
Nissan Micra, Primera(P11 Wagon), GTR, 370Z
Mitsubishi Colt
Hyundai ix20, Veloster
Daewoo Lublin 3
Kia Sportage
Harley Davidson
Chrysler PT Cruiser
some trailers for cars
some cars special for Africa
All standalone, works on any maps.
Included painted default Opalin and Ford Transit, real 3D logos by Srele.
Models of other authors: Dacia Logan (Srele), MB Vito, W210, VW Passat B5 (Alexx_Os), Renault Kangoo (Alexx_Os, SNAIL_KILLA), Alfa Romeo Brera, Mito, Audi Q7, RS5, RS6 Avant, TT, MB ML63, VW Touareg, Golf 6, Subaru Impreza (Serj999), Harley Davidson (Onixer), some skins by IJ's Mods.
Compatible with all my packs.
For version ETS2 1.25.x.
Version 3.9 – added Mercedes Benz Vito Cargo(2 variants) with skins, Peugeot Boxter Fridge with skins, 45 new skins for vans and 5 new skins for Opalin.