CHEAT TRUCK SKIN FOR ALL SCS TRUCKS ETS2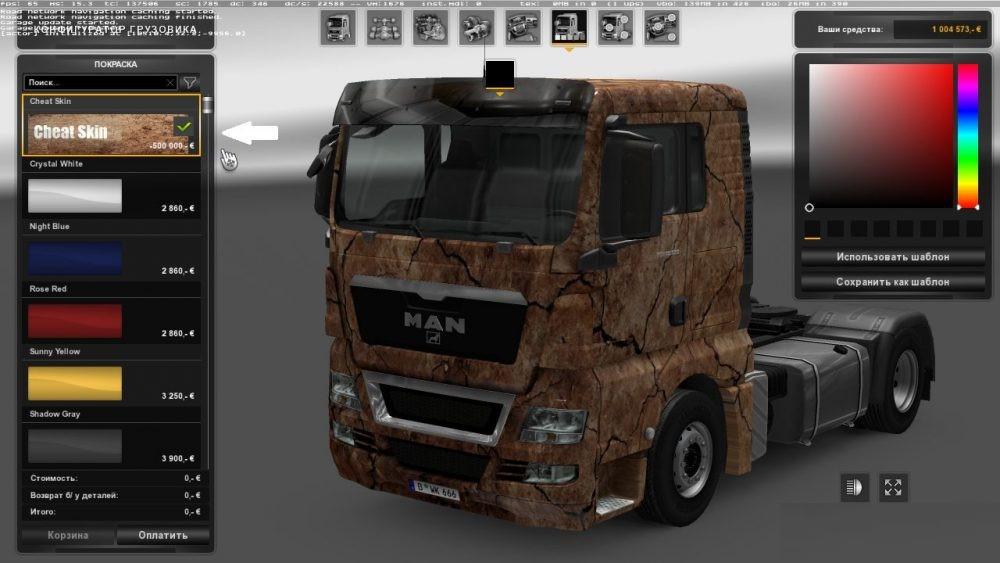 CHEAT TRUCK SKIN FOR ALL SCS TRUCKS ETS2
Cheat-Skin for all SCS trucks. (For all cabins).
The modification adds to the game Cheat-Skins, which is available servise station in a painting workshop with the 0-th level.
The essence of this skin is that he CHEAT, and if you purchase and install on the truck You get to your game account a 500,000 currency units.
You can set the Cheat-skin as many times You (buy/sell) to achieve the desired game amount.
CHEAT SKIN WORKS WHEN STARTING A NEW GAME, AND WITHOUT STARTING A NEW GAME (FINISHED PROFILE).
You start a new game, then after 1-2 flights (maximum 3) You will begin to receive messages on Bank game credit and about buying your own truck. You can take the game credit in the amount of 100.000 or 400.000 to buy their own truck and when buying it to install Cheat-Skin and immediately receive 500,000 in cash to your game account! Then You can immediately pay off debts on Bank game credit!
If You play on a ready profile, to start a new game not necessary! Just plug the mod in mod Manager and install the Cheat-Skins to your truck as You need time to achieve the desired in-game amount.
Game version: 1.27.
Enjoy the game!