DAF XF E6 by ohaha [v1.66] ETS2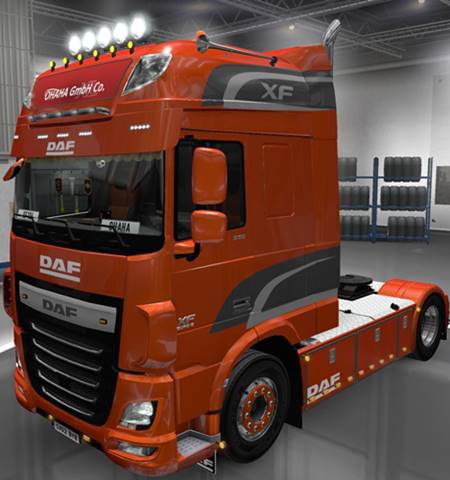 DAF XF E6 by ohaha [v1.66] ETS2
1 plastic and painted optional variants for upper engine grid (with lights and various signs slots);
Lower engine grid;
Bumper (with high beam projectors and lights slots);
Cabin fender (side protection);
Rear wheel arches;
2 side skirts available for 6xX chassis variants;
3 windshield frame;
4 engine air intake;
5 chassis frames;
Stock (plastic and painted);
Custom (with custom lights slots);
6 upper cabin back custom plate (with custom lights slots);
7 vertical exhaust pipes (one currently available. more will be built, probably);
8 reworked chassis configurations;
9 option to remove cabin spoilers / hoods, or have a raised spoiler on B cab.;
10 rear and front mudflaps;
11 illuminated decal for SuperSpace cabin and roof grills w/ and w/o light box.;
12 etc.
Update to v1.66
– Added default steering wheels to interior definitions.
Warning: if you have a truck bought in a previous version, you must visit a truck service and purchase a steering wheel, because your current save does not include one. After that, it should be ok.