Improved Company Trucks Mod v 1.9 ETS2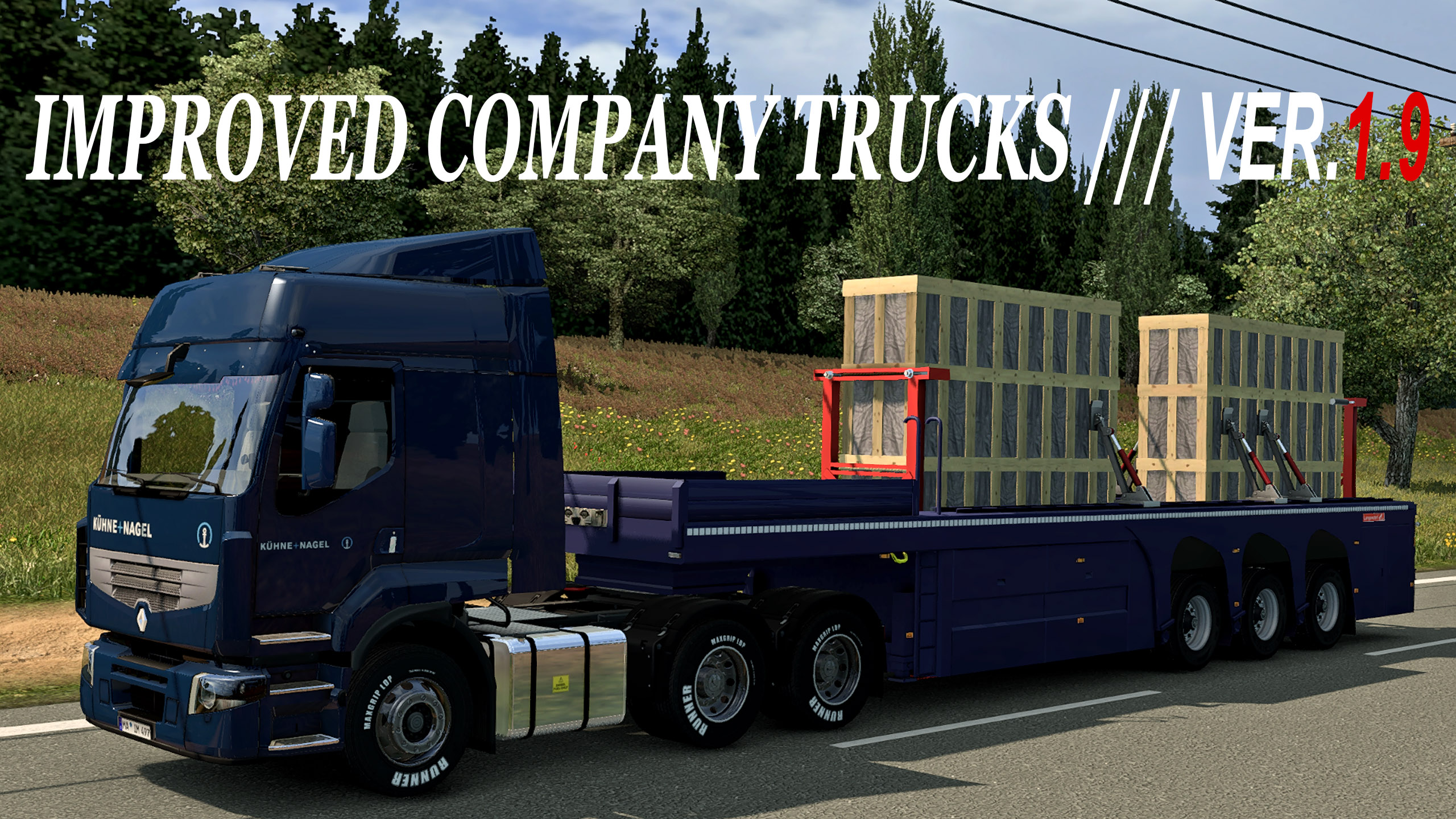 Improved Company Trucks Mod v 1.9 ETS2
– 1200 variants of trucks (rhd and lhd) for quick jobs to select from;
– Every quick job truck now has its own technical condition;
– Almost all possible variants of chassis, cabins, interiors, now used in quick job trucks. More than 90% of default engines are represented;
– Mercedes Actros `14, Volvo FH16 20092012 and Iveco StralisHiWay now use new engines from Snoman`s Gearbox/Differential mod. Also, all quick job trucks use real gearbox data from Snoman`s Gearbox/Differential mod (mod is integrated);
– Trucks differ by installed accessories: front and bottom grills, wheels, sunshields, headlights, mirrors, doorhandles, sideskirts and doorsteps;
– Correct badges, based on enginechassis type;
– Reworked truck paint system: trucks will use SCS standard/metallic paint and custom skins for real logistic companies: A.K. Worthington, CEVA, Freya, Fiege, Kuehne Nagel, Norbert Detressangle, Panalpina, Schenker, Sovtransavto, Dachser, Emons Group, Logwin Logistics, Fercam, Willi Betz and Raben;
– 80+ new paint colors for aiquick job trucks and ai cars;
– Some trucks now have working interior lights;
– All trucks without integrated GPS have standalone GPS navigators;
– New loading screens;
– Mod is compatible with all map, cargo, trailer, graphic, sound and physics mods;
– More realistic economy, harder gameplay and more slow player level progress;
– More traffic on roads and it is more agressive;
– Some quick job trucks will now use Michelin DLC tyres or have curtains installed;
– Some trucks will use xenon headlights;
– Some trucks will have dirty windshields;
– Some DAF and Scania trucks will have Vabis steering wheels installed.
– Fixed errors in job generation definition files;
– Updated transmissions and engines definition files, added new transmissions and engines;
– Some quick job trucks now will use xenon headlamps, some – default halogen;
– Completely removed default transmissions from quick job trucks definition files, they will only use lots of Snoman transmissions;
– Lots of new transmissions were added to quick job truck definition trucks;
– Reworked trucks and traffic cars colors definition files, now cars and truck will use less vivid colors;
– Fixed wrong base_color values in quick job trucks skins definition files;
– PMG files were converted to fix yellow warnings in game log.
Installation:
1. Extract scs files from downloaded mod archive to Mod folder;
2. Run game and launch mod manager;
3. Enable Improved company trucks mod. If you don`t have DLC Michelin, also enable dlc_michelin.scs (with higher priority!)
4. Play!
Attention!!! Mod is tested with ETS2 ver. 1.27.x and not tested on previous versions