Lamberet Futura SR2 Standalone Trailer Spanish 1.24 – 1.25 TRAILER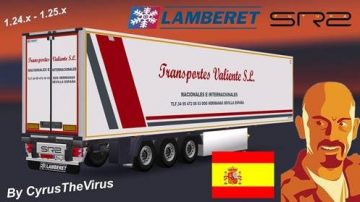 Lamberet Futura SR2 Standalone Trailer Spanish 1.24 – 1.25 TRAILER
Lamberet Spanish Agencies Standalone Trailer Updated
Tested on: 1.24.x – 1.25.x
Addaptation to 1.24.x – 1.25.x ETS2 game version
Added 3 more skins (20 total).
Compacted mod (1 trailer and 20 skins, not 20 trailers…).
Fixed shadows.
Added to a.i. traffic.
Added LOD model (for traffic).
Added reflective rear plates and stripes (sides and back).
Illuminated Thermoking display.
Advanced coupling ready.
Trailer browser ready (1.25.x only).