MOD Advanced Improvements v2.8 MOD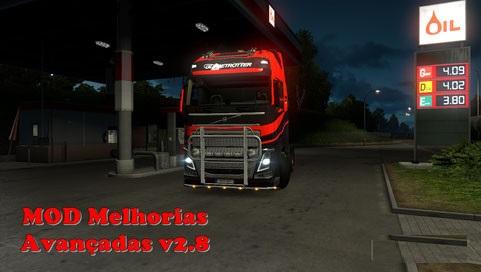 MOD Advanced Improvements v2.8 MOD
MOD Advanced Improvements v2.8
It is a great pleasure to present to you the latest update of our dear MOD Advanced Improvements, developed especially for you, full of news to lovers of simulators, would like to clarify some points regarding the Mod, our package results in 50% of other developers, all updates come with official credits of each creator, our other 50% comes from my own, they are tested and constantly checked so that there is no conflict with updates released by SCS Software, where we have 100% stability oh yes available to our audience.
Mod version: 2.8
Game Version: ETS2 1.25.2.6s
Version 2.8 – 09.22.2016
• European Fuel updated 9/19/2016.
• Corrections in several Def's files for greater compatibility.
• Fix the AI traffic headlight for current Def's.
• Eurolines now with name and official logo.
• Real names for Fjord Line and Stena Line ships.
• Fuel stations now have the updated values tables.
• Realistic Sound Weather v1.7.7 (intense rain, fog, sounds more realistic rays).
• The Polaris Lines company is officially Stena Line.
• Changes Victor refrigerator to refrigerator trailer Schwarzmüller in DLC: Schwarzmüller Trailer Pack.
• Real Logos for heavy equipment added in charge DLC High Power Cargo Pack.
• Added all kinds trailer paintjobs and traffic loads.
• Adjusted spawning values of various AI vehicle for variety.
• The maximum speed set several AI vehicles to more realistic values.
• Motor torque adjusted several AI trucks to more realistic values.
• Weight set to AI trailers based on load files.
• Certain customization parts are limited to the correct configuration (eg. V8 sideskirts / interior, Volvo roof decals will be available only with the combination motor / correct cab).
• Various fixes / improvements to the first and fast work trucks.
• exact engine names for the Mercedes-Benz Actros (OM 501 / OM 502 instead of V6 / V8).
• Fixed texture "400" emblem of MAN.
• Realistic reverse gear ratios for the ZF AS Tronic (DAF, Iveco, MAN), Mercedes and gearboxes Renault / Volvo.
• unused paintjobs are used by trailer in traffic.
• Added not used for cargo transport.
• bricks and concrete loads are added to the transport.
• Added real logos for various AI vehicles.
• Changes Crown trailer liveries for Krone.
• Removed sounds of traffic due to some conflicts.
• Removed Green Navigation, colorful GPS.
• Removed Colour Map, colorful world map.
• Removed transmission of 14 speeds Volvo and Scania.
• All Trucks now have new transmissions of 18 speeds.
• Volvo and Scania now have new transmissions of 22 speeds.
• Transmissions 16 speeds upgraded to DAF, Iveco, MAN, Mercedes-Benz.
• Transmissions 12 speeds updated for all Trucks.
• The cost of hiring a driver is now R $ 1,200 reais.
• Fixed issue with super high fine to stick red light.
• Removed the name of actual loads, eminent conflict when trying to change the language.
• Adjusted values in Bank loans with more realistic interest percentage.
• Extreme Physics Alpha. (Version 2.0).
Version 2.7.1 – 07.02.2016
• Fix the load (Driller) has corrected name.
• Correction in all transmissions (12, 14 and 16 speeds).
• Fixed chassis 4×2 Iveco's Hi-Way.
• Fixed issue in the bank file.
• Fixed problem in the police file.
• Fixed problem with sound Scania V8.
• Fixed other problems in the sounds of Trucks.
• Various fixes conflicts in the game.
• Removed from the sounds (cleaner, retarder, collision warning "Sale of Trucks").
• Problems related to the performance of fixed MOD.
• readjusted Files for better gaming.
• Full compatibility with the new update of the game.

Version 2.7 – 28.06.2016
• European Fuel updated 6/27/2016.
• Euro added back to the MOD.
• The company is officially Scout Škoda Auto.
• Changes in trailers (500 Digger, Digger 1000, Driller, Excavator, Forklifts, Roller, tractor) now have their real names.
• Real logos for heavy equipment Caterpillar®
• Transmissions 12 speeds updated for all Trucks.
• DAF, Iveco, MAN, Mercedes-Benz, now have new transmissions of 16 speeds.
• Scania, Volvo, now have new transmissions of 14 speeds.
• Renault, only without new speed transmissions.
• The tires have brands (Bridgestone, Continental, Goodyear).
• Various fixes / improvements for trucks offered by dealers.
• Adjusted the price of stock exhaust pipe Iveco Stralis Hi-way to match the Iveco Stralis.
• Price paintjob bubbles set Scania Streamline to match the other trucks.
• Trailers have tire marks true.
• cabin names corrected the Iveco Stralis and Renault Magnum.
• The gearbox names corrected for the Iveco Stralis, MAN and Renault trucks.
• Mercedes-Benz Actros name corrected motor (not using the chassis format 18xx).
• Readings km / h panel "30" and "50" LHD man does not disappear overnight.
• DAF XF, stock exhaust left does not conflict with the law of escape.
• 4×2 Iveco Stralis Hi-Way the sideskirt can now be removed.
• Fixed problem Iveco Stralis Hi-Way appointment, he no longer appears as the Iveco way Hi Hi-Way in the Driver Manager.
• DAF XF Euro 6, sun protection can now be removed.
• The type of lights (halogen or xenon) is done depends on the type of taxi, and got no truck with halogen headlights or xenon purchased the truck.
• Green Navigation, GPS is now colorful.
• Real Interior Cams v.1.3.3 (Your steering wheel in a more realistic position).
• New HD map for the original game.
• Reformulated garage door sound and corrected volume to a lower level, opens at a certain distance.
• Reduced yawning Volume slightly for simulation of fatigue.
• Classic / historical ding sound for as long as fuel is pumping (about decades from 1960 to 1970). The number of dents give you an idea about how much you restocked.
• Real fuel pump, fuel cap sounds, door close, click seatbelt and key insert sound effect after refueling for a full tank.
• Real stick / switch / button sounds for: parking brake, hazard light, clean stick windshields, flashes / indicator / signal switch, light.
• Retarder sound changed to real retardant sound.
• AI vehicular traffic given new horn sounds. Depending on the patience of the driver, it can be used a short or long horn.
• Trucks / AI transit bus given more variations of sounds (turbo engines, speed changes).
• You can hear the faint sound of vehicles, overtaking or passing you by in the opposite lane.
• New stations added ARAL, TOTAL, BP, Esso and Agip.
• Sound changed retardant for real retardant sound.
• Driver warning sound support system installed in all trucks (ETS2 exclusive feature).
• Volume and audio reformulated to biplanes, trains (train horns included) and helicopters.
• Extreme Physics Alpha. (Version 1.0).
Version 2.6.1 – 5/15/2016
• Fix the AI traffic lighthouse (2.6 to 2.6.1 improved).
Version 2.6 – 05.15.2016
• Physical realistic v11.0 (Realisto maximum).
• Realistic Sound Weather v1.7.5 (more real sound of rain).
• Xenon Headlight V50, Realistic Lighting (Improvements in lights and reach the traffic).
• Realistic Transmission (Transmission now follows the pattern Reduced & Sequential).
• Holiday Inn Express & Novotel Hotel. (Skins sophisticated hotels)
• European Fuel updated 5/14/2016.
• Brazilian posts (Only Scandinavia has not been modified).
• Heavy machines are now officially Caterpillar® (Exception Hydraulic Excavator).
• recruitment companies with real names. (It became more attractive)
• Now the sound of the cab has been increased to 34%
• Adjusted loan values in the bank.
• Other improvements to make the most of your game.

Version 2.5 – 01.31.2016
Fines Brazilian:
• Collisions in traffic R $ 240.00
• Sleeping at the wheel R $ 600.00
• Driving in hand against R $ 180.00
• Speeding (Cameras) R $ 210.00
• Headlights erased overnight R $ 90.00
• Next red light R $ 192.00
• Speeding R $ 210.00
Improved economy:
• Introduces Real as currency, exchange rate of the Euro.
• Bank updated as the current interest.
• Purchase garages R $ 150,000.00.
• Improve garage R $ 300,000.00.
• Productivity of updated garages.
• Fuel in garages now 40%, almost free.
• Best value when selling the truck, fair price 50%.
• Prices of Truck's updated at dealerships.
• freight Higher values (As increases your skills).
• Fuel in European posts updated as the current economy 01.25.2016.
INFORMATION:
MOD Version: 2.8
Game Version: 1.25.2.5