RENAULT AE MAGNUM 1.25.X QUICK JOBS FIX 1.25.X MOD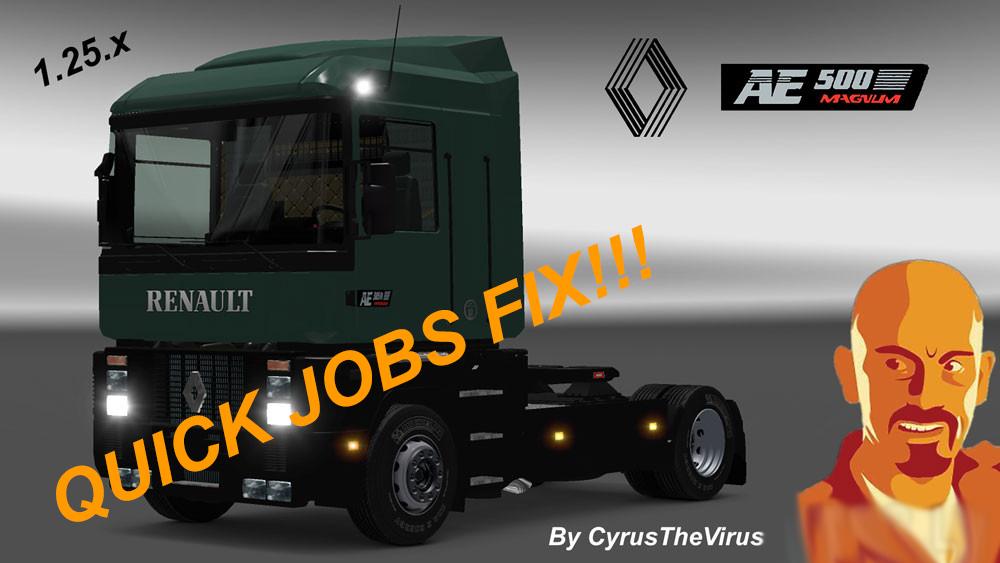 RENAULT AE MAGNUM 1.25.X QUICK JOBS FIX 1.25.X MOD
This file fix the game crash when you select an quick job with Renault AE Magnum 1.25.x. Also adds the old Renault logo (1972) when select the Renault AE in quick jobs list.
ATTENTION:
This file is not truck mod and is not a file that should be activated in the mods manager. Simply follow these instructions:
FIX INSTALATION:
OPEN BOTH FILES, RENAULT AE MAGNUM (MAIN MOD) AND THIS FIX FILE WITH WINRAR.
DRAG AND DROP THE TWO FOLDERS, "DEF" AND "MATERIAL" (FROM THIS FIX FILE) TO MAIN MOD OPEN WINDOW.
CLICK "OK" WITH DEFAULT SETINGS.
THAT'S ALL!!!
ONCE IN THE GAME, SLEEP TWO OR THREE TIMES TO REGENERATE THE QUICK JOB LIST BEFORE SELECT ONE OF THEM.