Survival Economy FOR ETS2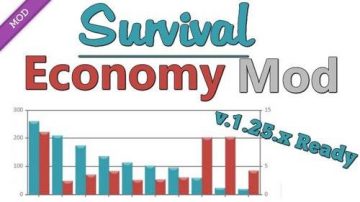 Survival Economy FOR ETS2
With the Survival Economy Mod you disappear from the financial Paradise of the main game and will head off directly into the hard forwarding market of real life.
It has become not only more difficult to retract money, but also to keep the own company on the market. There were not only the freight rates adjusted in this mod, but also any associated settings for an exciting gaming experience.
Changes in the List below….
***PLEASE CREATE A NEW GAME PROFIL FOR THE BEST GAMING EXPIERIENCE***
[ ] = Free / Update DLC´s
[ * ] = Payware DLC´s
Supported and Required DLC's:
[ * ] Scandinavia
[ * ] Going East!
[ * ] Cabin Accessories
[ * ] Wheel Tuning Pack
[ * ] National Window Flags
[ * ] Christmas Paint Jobs Pack
[ * ] Halloween Paint Jobs Pack
[ ] Rocket League
[ * ] Schwarzmüller Trailer Pack
[ * ] Ice Cold Paint Jobs Pack
unsupported DLC's (will come in the Future):
[ * ] Mighty Griffin Tuning Pack
Changes by this Mod:
– Game starts at 06:30 a.m. with 10,- ($Your currency$)
– Changed the fines (Value) for Traffic Violations
– All (Stock) Tuning & Cabins Parts available at Level 0
– You have to do up to 8 Quickjobs before the Bank gives you a loan
– The Bank Loans are reduced
– The profits for Jobs are reduced
– Some Truck Parts have a "Sale Function" (reduced Price – This is from truck to truck and from Tuningpart to Tuningpart different)
– Prices of all Truck parts are much more realistic
– Changed the Profit and Pays for own Drivers
…and much more
Promods Edition will follow the next Hours.. (it´s still ready)