Tropical ETS2 v3.4 ETS2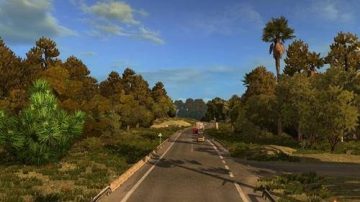 Tropical ETS2 v3.4 ETS2
This mod changes ETS2 into a tropical environment.
For use with warm climate maps like EAA, PJ Indo, Sumatra etc.
Can also be used with the standard map or other European map like Promods for a change of scenery.
Key Features:
Tropical vegetation and terrain
Road and sidewalk texture changes
Building colour changes
Painted kerbs and barriers
Yellow road lines
Coniferous hedges
Other model changes
Higher temperature readings
Compatibility Latest Version: 1.25
Tropical ETS2 is also a weather mod so it is recommended that other weather mods are disabled.
Recommended Mod: Sound Fixes Pack by Drive Safely – adds background bird and insect sounds.
Tropical Europe should be given a high priority in Mod Manager
Changes in v3.4
Vegetation improvements
More tropical terrain added
Sidewalk texture changes
Yellow road lines
Hedges changed to coniferous
Painted kerbs and barriers added
Sun data errors fixed
Other wall and fence changes
Name changed from Tropical Europe to Tropical ETS2