Wheel of 180-270 degrees v1.25 Interior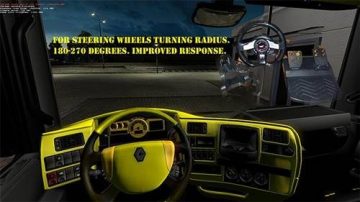 Wheel of 180-270 degrees v1.25 Interior
The mod uses the ETS2 version 1.25.XX onwards and for ATS 1.4.x onwards.
The difference of a steering wheel midrange, one of the "economic" usually turns of the steering wheel. While one as the G-27 has 2.5 turns from side to side, equivalent to 900 degrees, a low-end has only one turn from side to side, or what is the same 180 degrees. Sometimes they have something else, like my case it has something more than 1 turn, equivalent to 270 degrees.
What happens when you try to play Euro Truck ?. As a G-29, G-27, G-25 doing spinning wheel engaging the game, turning in unison with, without jumping to turn your hands too physical wheel.
With economic wheel that does not have these Grados, when you get your butt for example 270 degrees, what it does is make other grades of 'SLAM !!!. Those who have flyers latter know what is right ?.
The mod, what it does is soften the slog and make us the most simple and smooth ride.
The mod does not touch physical at all the truck. Not touch brakes or dampers, not grip anything. What if playing the mod, is the setting of softness and turn "adapted" to these economic flyers.