USED TRUCKS MOD (BETA 6.6B) FOR ETS2 MOD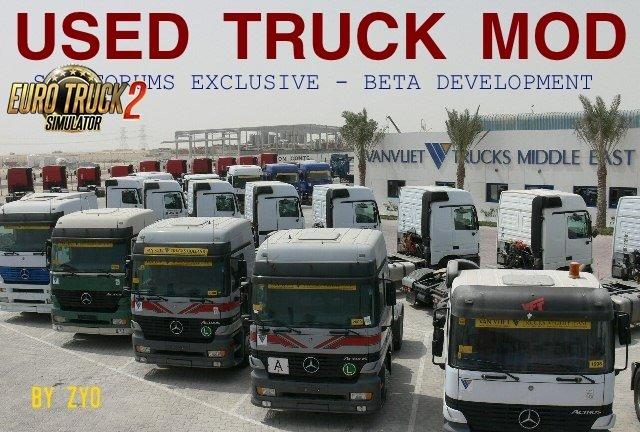 USED TRUCKS MOD (BETA 6.6B) FOR ETS2 MOD
Used truck mod for ETS2 1.24.x-1.25.x game version
NEW Beta Version – 6.6b (14/05/16)
WHAT DOES THIS VERSION CONTAIN?
New pricing for the EURO 5 tractors – Magnum, Actros MP3, Volvo FH16, DAF XF.
A test of texturing for the Actros MP3/Magnum
New version b6.6 :
Included company vehicles in the mod concept
Wear and conditions issues in company (quick job) trucks
Fixed a bug that made Renault UK garages un-useable
Added 25 UK company truck liveries for increased immersion. *Next version EU*
Far too many small changes to list, updated Magnum textures, some dealer tweaks.
!!!This mod is intended for use with hard economy mods!!!
Goals:
1. To increase realism in your trucking simulator.
2. To give more truck purchasing options as you are getting started.
3. To make some of the less popular trucks into a more viable option.
4. To make it easier to expand a fleet later in the game, especially when using a hard economy.
5. To keep it as fair and balanced as possible. Its not a "cheat-mod", you will not be getting tractors for £1000!
Used truck pricing has been researched and will reflect real values as fairly as possible. In addition, lower prices will be offset by other factors.
What you get when you buy used:
– Out of production trucks are available more cheaply
– Truck names have been changed to reflect their pre-owned status
– Used trucks will not have zero miles on the odometer
– Mileages now range from 100.000 to ???.??? (upwards) depending on age and use, and will contribute to condition factors (outlined below)
Condition!
The used trucks will be available for less initial outlay, but this will be balanced by the fact that some will have high
mileages when purchased and will range from reasonable to very poor condition.
Some will be well maintained, but some may need a trip to the repair shop to freshen them up.
Condition is reflected in the purchase price of the vehicle.
Maintenance!
Be aware older trucks may have a lower price tag, but they will cost more to run.
I have balanced the pricing by changing the prices of the components.
Older engines and transmissions are invariably more expensive to maintain. (30-50% increase currently).
Chassis/Body will be less expensive, to reflect availability of parts and ease of maintenance on older trucks.
Wheel and tyre costs will remain about the same (costs of tyre wear and balancing/tracking is constant in new and old vehicles).
Progress:
As of now, I have completed work on the Volvo FH16. As it is one of the more desirable used trucks
(with the 540hp engine, its a great starter truck) I have decided to make it at the top end of the used truck scale.
It is generally considered to be a well maintained, low mileage example, like you would find "nearly new" at a Volvo Used Trucks Centre.
DAF XF EURO 5 is complete.
A very popular used truck especially in the UK.
It doesn't retain its value quite as well as its premium competitors so is available somewhat cheaper.
Ages well. Average maintenance costs, low powered versions can be a bargain.
Conditions are reasonable. Some extra options are available. This EURO 5 version is now available at any level.
The Actros MP3 is a good quality truck and is generally very reliable but as it went out of production
in 2011 even the newest versions are around five years old.
Premium versions are in good condition but budget options might have seen more wear.
Mercedes maintenance is higher than average.
The Magnum is Renaults venerable big truck. Available in the same form from 1990 to 2013 the Magnum has been criticised
for not matching up to the quailty of other trucks, yet is lauded for its longevity and ease of maintenance.
It has strong engines and is cheap to run.It's the cheapest vehicle available in UsedTrucks.
In progress:
Renault Premium
Planned:
Renault. As both of these trucks are out of production I will probably make one the budget option (Magnum?)
which will be the cheapest used truck available and in poor condition. My reasoning being it has been available since 1990 and there are many around.
The Renault Premium was produced until 2014 so in theory should be the newest used vehicle and in better condition.
Textures. I am working on interior and exterior textures. Grimy buttons, blemished paint, worn seats ect.
COMPANY TRUCK LIVERIES – UK complete, EU in progress.
Note from the Author:
Any suggestions, constructive criticism, ideas for improvement are welcomed. Here!!
I'll be updating this post as work progresses.
Installation Help:
Place usedtrucks.scs in the folder xxxx/MYDOCS/ETS2/MOD/
Load order. Mine is quite low in the mod manager and works fine.
Might show conflicts with mods that alter the trucks. I'm using the FH16 by AlexeyP and the new Actros
by Davidzoli and I load them AFTER my mod with no problems. I also use Promods 2.0 and some trailer packs.